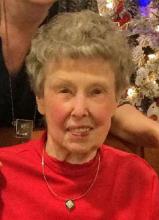 KATHLEEN (KAT) HOLLINGSWORTH CRAFT
 
Mrs. Kathleen (Kat) Hollingsworth Craft of Aliceville, passed away peacefully at the young age of 92 on the morning of Dec. 25, 2020.  Her loving daughter Sherry was by her side.
Kat was born on May 14, 1928, as the only child of the late Dewey and Neeland Hollingsworth of Fayette County, Alabama. After graduating from Fayette High School, she took a business course in Birmingham and worked in accounting and business management throughout her life. At age 57, she was elected and served as Revenue Commissioner of Pickens County for three terms from 1985 until her retirement in 2003. During that time, she also served in several officer positions in the Alabama Tax Assessors and Collectors Association and on the boards of many local associations and committees. She was "forever the volunteer" to any worthwhile cause in the areas of humanities, athletics, schools, scouts, community, and church. She had a strong work ethic and always made every minute of her life count.
She took great pride in her children and always tried to stay involved in their lives, friendships, and activities as they were growing up. She certainly remained young at heart until her last days.
Kat was predeceased in death by her husband, James E. "Bubba" Craft Sr.
She is survived by her four children, Dewey "Eddie" McClure (Cindy), Sherry McClure Harris, James E. "Rocky" Craft Jr., (Robin), and Clarence Christopher Craft; grandchildren, Michael McClure, Melissa Sanders (Corey), Rachel Mathis, Bo Harris, Chelsey Hamlin (Andy), Jake Craft, Clay Craft (Rachel), John Hunter Craft, and Olivia Craft; and eleven great grandchildren.
Due to the restrictions of the Covid pandemic, a memorial service will be scheduled for a later date. She will be interred beside her parents at Oakwood Cemetery in Fayette.  In lieu of flowers, the family suggests memorials to a charity of your choice.