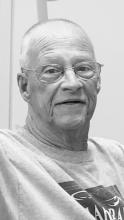 MITCHELL ARY
 
Funeral services for Mr. Mitchell Ary, age 67, of Fayette, were held Tuesday, July 2, 2019, at 1 p.m. at Mt. Vernon United Methodist Church with Rev. Gary Cargile officiating. Burial followed at Mt. Vernon Cemetery. Mr. Ary died Saturday, June 29 at Northport Medical Center.
He was preceded in death by his father, R. O. Ary and father - in - law, Lendon Duckworth.
Mr. Ary is survived by his wife, Alice Duckworth Ary; daughters, Tracie Perkins (Michael) of Fayette, Lisa Ary of Fayette, and Mandy Caine of Fayette; mother, Clara Dean Hindman Ary of Fayette; mother-in-law, Ruth Duckworth of Fayette; sisters, Lou Collins (Thomas F.) of Fayette and Deanna Colbert (Bill) of Villa Rica, Ga.; brothers, Max Ary (Sandy) of Fayette and Gerald Ary of Amory, Miss.; seven grandchildren, John "J.D." Caine, Alex Perkins, Katelyn Caine, Courtney Mozingo, Carson Mozingo, Anna Perkins, and Abby Perkins; and one great-granddaughter, Jesslynn Perkins.
Pallbearers were Rickey Ary, Gordon Ary, Sammy Hindman, Billy Wayne Johnson, William Thompson, Eddy Joe Stocks, John "J.D." Caine, Alex Perkins and Carson Mozingo.
Honorary pallbearers were the grandchildren and the employees of the Fayette U. S. Postal Department.
Norwood-Wyatt Chapel of Fayette directed.