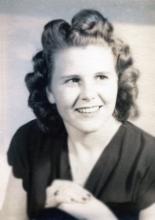 EULINE DODSON HOUSH  
Funeral services for Mrs. Euline Dodson Housh, age 97, of Fayette, were held Thursday, June 20, 2019, at 2 p.m., at Norwood-Wyatt Chapel. Dr. Scott Davis and Michael Marion officiated. Burial followed at the Fayette City Cemetery. Mrs. Housh died Tuesday, June 18 at her residence.
Mrs. Housh was preceded in death by her husband, Earl D. Housh; her parents, Bevie Lee Dodson and Exie Lee Burrow Dodson; her maternal grandparents, Rayford A. Burrow and Rebecca Pauline Miles Burrow; and her paternal grandparents, James Hamilton Dodson and Mary Ethel Hubbert Dodson.
Mrs. Housh was a 1940 graduate of Fayette County High School. Prior to her death, she was the oldest member of the Fayette First Baptist Church, where she attended since early childhood.  She loved her church and for as long as possible, she was active in the Golden Circle Sunday School Class and Women's Missionary Union.  She was a previous member of the Progress Club, Inc., and United Daughters of the Confederacy.  She worked with her husband, Earl, in running the Fayette Processing Plant for 22 years.  She loved to sew and quilt and was talented in these crafts.
She is survived by her daughter, Denese Housh Marion (Michael); granddaughters, Tabatha Marion McCray (Robin), Micque Marion Kramarczyk (Ed); great granddaughter, Katherine Elizabeth McCray and great grandson, Robert Michael McCray.
Pallbearers were Alva Grimsley, Gene Deal, Dale Lawrence, Dale Hindman, Skipper Newman, and Jerry Dodson. Honorary pallbearer will be Dr. Fred Yerby. In lieu of flowers, memorials are suggested to the Fayette First Baptist Church.
Norwood-Wyatt Chapel of Fayette directed.