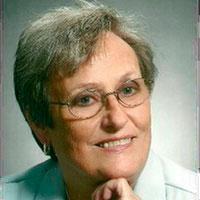 MARGARETTE REESE DUCKWORTH  
Mrs. Margarette Reese Duckworth, age 80, of Fayette, went home to be with Jesus and a host of loved ones on Saturday, Nov. 3, 2018, at the DCH Regional Medical Center in Tuscaloosa.
Funeral services were held Tuesday, Nov. 6, 2018, at 2:00 p.m., at Norwood-Wyatt Chapel in Fayette. Service officiants were Reverend Clyde Stevens and Reverend Bill Sullivan, both of Fayette. Also presiding was a life-long family friend, Furman Toney, of Albany, Ga.  Burial followed in the Bethel Baptist Church Cemetery on County Road 51, Fayette.
Mrs. Duckworth was preceded in death by her husband, Jerrel F. Duckworth; her daughter, Pamela Diane Duckworth; her father, Parrish Clinton Reese; her mother, Anna Benton Reese; two sisters, Alice Reese Segrest and Mary Reese Jones; two brothers, J.P. Reese and David Wayne Reese; her father-in-law, Henry Shirley Duckworth; and her mother-in-law, Mildred Stewart Duckworth.
She is survived by three children, Jerrel Wayne Duckworth (Susan) of Tuscaloosa; Mark Gregory Duckworth of Fayette; and Ellen Duckworth Smith of Fayette.; eight grandchildren, Michael Wayne Duckworth (Karie) of Remlap; Jason Benton Duckworth (Kelly) of Montevallo; Clinton Reese Duckworth (Elise) of Hayden; Parker Parrish Duckworth of Tuscaloosa; Carla Duckworth Elliott (Josh) of Prattville; Bradley Mark Duckworth (Holly) of Fayette; William Jerrel Smith of Fayette;  and Christopher Gregory Smith of Fayette; five great-grandchildren; Grayson Benton Duckworth of Montevallo; Madison Grace Elliott of Prattville; Olivia Hope Elliott of Prattville; Brooks Perry Duckworth of Fayette; and Brodie Walker Duckworth of Fayette.
Mrs. Duckworth was born in Fayette, where she lived until 1955 when she and her husband, Jerrel moved to the Birmingham area and raised a family in Adamsville.  She was an active member of the Temple Baptist Church there. After the death of her husband in 1985, she returned to Fayette, where she has resided ever since. She was an active member of the Bethel Baptist Church. Mrs. Duckworth very proudly worked in the medical field as a Certified Nursing Assistant at the Fayette Medical Center Nursing Home until she retired, after which she worked as a home health care agent in Fayette County. She loved her church, gospel music, her family and friends, cooking, sewing and spent much of her time in her garden, making beautiful flowers.
Pallbearers for Mrs. Duckworth were the people she loved most in this world, her Grand Children and Great-Grandchildren.
Norwood-Wyatt Chapel of Fayette directed.