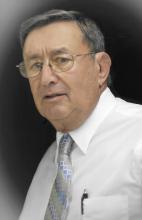 DANIEL REX HANEY
 
Funeral services for Mr. Daniel Rex Haney, age 81, better known as Rex, of the Wayside Community, were held Tuesday, May 17, 2022 at 1 p.m. from the Winfield Freewill Baptist Church. Burial followed in the Old Union Cemetery near Wayside. Mr. Haney passed away Saturday, May 14 at his residence.
He was preceded in death by his parents, O. M. and Pauline Haney and a special grandson, Garrett Miles.
Rex was born October 10, 1940. He was a 1959 graduate of Marion County High School. He was employed with the Alabama Department of Transportation for 44 years until his retirement in 2004.  Rex was a member of the Winfield Freewill Baptist Church for 63 years. To know Rex was to love him, he was one of a kind. He was a kind and loving man with a heart of gold. He loved working in the yard, garden, and piddling in his shed. He was a hard-working soul that loved his community, home, church and family. He is better known to his family as "Paw" and he had a nickname for every grandkid. Whitney "Whit", Lauren "Loggy", Jack "Big Redman", Hillary "Bitta Girl", Trace "Fred", Dawson "Too Tall", and Nicholas "Square Barrel". He was gifted at picking at you and having a joke ready. If you ever needed a "life lesson" on things that wouldn't make you lose your fingers he was ready! He loved to friendly argue and fuss, with anyone and everyone he knew, but he always made sure he had the last word.
Rex is survived by his wife of nearly 62 years, Rita Bull Haney; his children, Regina Henderson, Dana Stephens (Henry) and Scott Haney (Misty); grandchildren, Whitney Meyer (Jay), Lauren Collett (Jonathan), John Daniel "Jack" Henderson, Lindsay Shirley (Justin), Hillary Stephens, Henry "Trace" Stephens (Haley), Dawson Haney and Nicholas Haney; great grandchildren, Felix, Everett, Dylan, Crosby, Erin and Lillian;  special daughter, Tina Miles (Clark); his sisters, Norma Jo Smith and Kathern Mayo (Mickey); and a host of other nieces, nephews, church family and friends.
In lieu of flowers the family request that donations be made to Hospice of Northwest Alabama, 1315 US-43, Winfield, AL 35594 or Trinity Freewill Baptist Camp, 1835 County Road 3, Guin, Alabama 35563.
Bowen Funeral Home of Winfield directed.