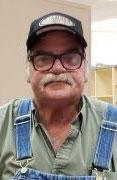 ULESS DEWEY WARD, JR.
 
Funeral services for Mr. Uless Dewey Ward, Jr., better known as Dewey, age 69, of the Wayside community, were held Sunday, Feb. 21, 2021 at 4 p.m., from the Bowen Funeral Home Chapel. Burial followed in the Siloam Baptist Church Cemetery. Mr. Ward passed away Friday, Feb. 19 in the Northwest Medical Center in Winfield.
Dewey was born on October 15, 1951 in Winfield to Uless "Hob" and Bertha Dobbs Ward. Dewey was a member of the Siloam Baptist Church and 1969 graduate of Winfield High School.
Mr. Ward worked for Quantum Construction Company and as a mail carrier for the United States Postal Service until his retirement in 2018. Mr. Ward loved his wife, his children, his granddaughter and his family. He enjoyed fishing and watching all Alabama athletics, especially Alabama football.
He was preceded in death by a daughter, Jennifer LaShae Ward; his parents, Uless Dewey Ward, Sr., and Bertha Dobbs Ward; a sister, Dorothy Agree; a brother, Benjamin Ward; sister-in-law, Rosa Ward; and brothers-in-law, Perry Burns and John Hull.
Dewey is survived by his wife of 48 years, Sandra Vickery Ward; his daughter, Alicia Cowart (Craig); a son, Chris Ward; and his "sunshine" and granddaughter, Natalee Ward; his sisters, Mary Chappell (Seaborn), Freddie Hull and Frances Burnes; a brother, Gary W. Ward; and a host of nieces, nephews and other family and close friends.
Bowen Funeral Home of Winfield directed.