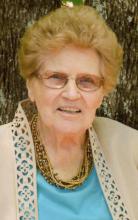 ESTELLE WORTHY FOWLER
 
Funeral services for Mrs. Estelle Worthy Fowler, age 94, of Bankston, were held Thursday, Sept. 24, 2020 from New Liberty FWB Church. Bro. Adam Smith and Bro. Donald Smith officiated. Burial followed in the adjoining cemetery. Mrs. Fowler died Tuesday, Sept. 22 at her residence.
She was preceded in death by her husband, Burvle N. Fowler; daughter-in-law, Nancy Fowler; parents, Charles and Francis Worthy; brothers and sisters, Clifton, Oliver, Otis Worthy, Clara Wright, Cora Smith, Elaine Reeves and Pauline Corkren and four siblings who died at birth.
Being one of 16 children, Estelle spent her younger days working in the fields and tending to her rowdy brothers and younger sisters. She married B.N. Fowler in 1946 and spent her time as a homemaker, baking biscuits and cornbread, cooking vegetables, working in her flowers and growing vegetables in her garden in the Fowler's Crossroads community. When not working in her home, her favorite pastime was taking care of children. She was not only Mawmaw to her own family, but so many others. There have been countless little ones who she has held, rocked, and loved. Many who were not from her family, but loved them just the same. She has fondly been called MawMaw Fowler by many. She loved the outdoors and worked hard to prepare food for her family and neighbors. There was always fresh food in the refrigerator. She never failed to cook fried potatoes, macaroni and cheese, bacon and peanut butter sandwiches and cheese toast for her grandchildren. She was always prepared with Little Debbie Star Crunches, apples, bananas, crackers, and Freedent chewing gum for her great grands. She was famous for her sweet tea and a few great grands have "almost" perfected her recipe.
She was loved by everyone that knew her. She was a true example of a virtuous woman. She was clothed in strength and dignity. She loved to laugh during all of her days. She was wise and faithful and prayed her family through many hard times. She watched her house and provided for those who loved her. All that knew her called her blessed. She gave of the fruits of her hands. Her love, strength and determination will be the legacy she will leave for her family.
She worked hard every day, making sure her floors were swept, the house was dusted and food was cooked for any company that might come her way. She was never a stranger to hard work, but knew how to enjoy the day by swinging or rocking on her front porch. She will be sorely missed by everyone who knew her.
Her surviving relatives are Gail F. Smith Simpson and Glenn B. Fowler, grandchildren,  Lana Langley (Chuck), Jason Smith (Emily), Jarrod Smith (Angela), William Fowler (Laura), and Isaac Fowler;  great-grandchildren, Sara Langley (Rich Lindsay), Alan Langley, Nicklas Smith (Kylie Franks), Nadia Fowler, Ella Kate Curington, Ciara Skaggs (Dillon Wilson) and Emily Skaggs; one great-great grandchild, Jackson Cole Wilson;  brothers,  Rayford Worthy (Frieda), and Douglas Worthy;  sisters, June Lowery (Bill) and Agnes Mordecai (Flay); a host of nieces and nephews and many others from near and far who adored her.
Estelle will be lovingly escorted to her final resting place by Jason Smith, Jarrod Smith, William Fowler, Isaac Fowler, Nicklas Smith and Chuck Langley.
The family would like to offer heartfelt appreciation to Debbie Baggett, Val Nalls, and Vickee Taylor for petting, loving and caring for her, each of you have provided great comfort to her family. Thank you to Fayette Medical Center Home Care for helping her to get back to cooking and sweeping her floors, and Hospice of Northwest Alabama for keeping her comforted and loved during her last days.
Nelson Funeral Home of Fayette directed.