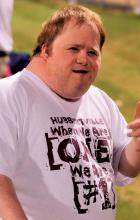 ALEX ADDISON CHAFFIN
Funeral services for Mr. Alex Addison Chaffin, age 34, of Hubbertville, were held Tuesday, Aug. 25, 2020, at 11 a.m., from the Bowen Funeral Home Chapel. Burial followed in the Berea Church of Christ Cemetery. Alex passed away Saturday, Aug. 22 in the UAB Hospital in Birmingham.
He was preceded in death by his grandparents, Joel and Louise Chaffin and Jack and Bobbie Nell Tidwell; and an uncle, Mike Chaffin.
Alex was a fun loving, fried chicken eating, Pepsi drinking young man. He had a heart of gold that touched many lives with his time here on earth. Alex was born in Winfield to David and Stachie Tidwell Chaffin on Aug. 6, 1986. He was a member of Berea Church of Christ and a 2004 graduate of Hubbertville High School. Alex loved his family, his school, his community, country music, and the WWE. Every Friday night during football season you could find Alex on the sideline cheering on the Hubbertville Lions; on Saturdays he would be cheering for the Alabama Crimson Tide. Alex was a true sports fan and was proud to let it show. He was always a ray of sunshine and a blessing to everyone that knew him.
He is survived by his parents, David and Stachie Chaffin of Hubbertville; brothers, Josh Chaffin (Haleigh) of Parrish and Eric Chaffin (Carly) of Hubbertville; aunt, Stephanie Corkren (Al) of Brilliant; uncles, Jimmy Chaffin (Karen) and Jeff Tidwell (Amanda Tranum), both of Hubbertville; nieces, Palyn and Parker Chaffin; nephews, Lance and AJ Chaffin of Parrish; his family and friends at Windows, and a host of cousins and other relatives and friends.
The family request that any donations made in memory of Alex be made to: Windows Unlimited, 1247 State Highway 253, Winfield, AL 35594 (205) 487-5547 Bowen Funeral Home of Winfield directed.