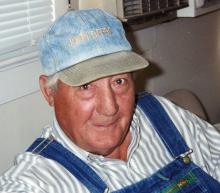 JOHN MARVIN "J.M." NUCKOLS
 
Funeral services for Mr. John Marvin "J.M." Nuckols, age 89, of Berry, were held Sunday, Aug. 9, 2020, at 2 p.m., from Nelson Funeral Home. Bro. Robert Yerby officiated. Burial followed in the Pleasant Hill Cemetery in Berry. He died Thursday, Aug. 6 at his residence.
He was preceded in death by his parents; son, Kenneth Nuckols; daughter, Pam Nuckols Sword; and great-granddaughter, Callie Samya.
Mr. Nuckols was born Aug. 28, 1930 to the late Abe and Flora Cannon Nuckols.
Survivors include his wife, Judy Nuckols of Berry; daughters, Shirley Beard (Charles) of Fayette; Tina Price (Jon) of Northport; Dana Treadway (Ricky) of Berry; 14 grandchildren; 27 great-grandchildren; and two great-great-grandchildren.
Active pallbearers were Tim Morris, Mike Morris, Phillip Amerson, Tom Ellard, Billy Cook, and Phillip Cunningham.
Honorary pallbearers were Dr. Elison, Hospice of West Alabama, Darrell Christian, and Thurman Thacker.
Nelson Funeral Home of Fayette directed.